Torvild Sveen:
Biri – Snertingdal 1920 – 1950
Fire bind
ANMELDT AV
Syver Aasberg
Min konklusjon er klar. Kjøp bøkene til Torvild. Nå ved månedsskiftet august/september kom de to siste bøkene til Torvild Sveen der han tar for seg utviklingen i Snertingdal og Biri i tiden 1920–1950. Her er et vell av opplysninger om hva som skjedde i disse bygdene under andre verdenskrig og de første etterkrigsårene.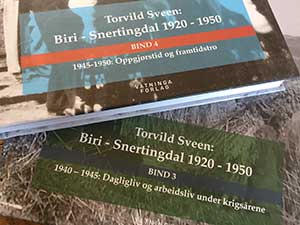 Torvild har jo fått tak i masse opplysninger som før har vært ukjent, opplysninger fra ulike lag og fra enkeltpersoner han har intervjuet. Og han har saumfart offentlige arkiver og aviser. For de som er innfødte biringer vil det være mye «nytt» som deres foreldre og besteforeldre kanskje ikke har snakket så mye med dere om. Torvild setter konkrete enkeltopplysninger inn i en sammenheng. Så hvis du så vidt husker noe som du er blitt fortalt, så kan du ved å lese disse bøkene skjønne mer av hvordan denne krigstiden – og etterkrigstiden var.
Visste du f.eks at det var en fryktelig uværsdag den 9. juli 1941. Og at det da er lister over hvilke gardsbruk som ble sterkest rammet og ble innstilt for skadeerstatning fra Statens naturskadefond (bind 3, side 136 med flere).
Og i bind 4, side 163 med flere, står navnene på de som ble valgt inn i de to første kommunestyrene etter krigen. Det er mange biringer og snertingdøler som kan finne en bestefar eller en oldefar på disse listene.
Eller at det var pristakstnemnd for fast eiendom under krigen. Torvild har laget sammendrag av 67 pristakster som ble gjort under krigen. Dette var noe som angikk mange familier. Og det er liste over alle som fikk erstatninger for påført ulempe med tømmerdrift da det ble bestemt at Mjøsa skulle midlertidig reguleres. Blant annet fikk åtte bruk erstatning for reduserte muligheter – eller skade – for fisket. (Bind 3 side 39 og utover.)
For strandingene kan følgende kapittel i bind tre kanskje være spesielt interessant.: «Knottfabrikant Lund ble hjemsøkt av branner».
I det hele tatt.: Her er «mett med» faktaopplysninger. Torvild går 10 ganger utenpå historielaget! Bind 3 og 4 ligger nå til salgs på Coop Ekstra på Biri. Gå og kjøp!